Our Mission
Fine Art Needs
Independance

It is our goal to aid this independence for Munich based freelance choreographers who work in the field of contemporary dance.
[ more ]

---
Venue


schwere reiter



An experimental venue for the independent scene for in-house productions, cooperations and guest performances for dance, music and theatre and performance. [ more ]


---
Livestream schwere reiter
March 20/21, 2021


Claudia Senoner + Mark Lorenz Kysela


Mmmooz reloaded
From 8th of February until 14th of February 2021 Tanztendenz Munich e.V. hosts again choreographer Johannes Blattner (Stuttgart). During that week he'll work at his project "The comfortable truth."
[ More ]
---
Tanztendenz Munich e.V. is sponsored
by the Munich Department of Arts and Culture
October to December


Tanzkalender



Inform yourself regularly about contemporary dance and performance in Munich.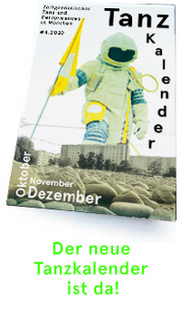 DOWNLOAD
SUBSCRIBE
---

Always up-to-date


Newsletter



We send out a newsletter with all contemporary dance premieres in Munich. In addition we publish information on workshops and courses that Tanztendenz and its members organize.

SUBSCRIBE