Our Mission
Fine Art Needs
Independance

It is our goal to aid this independence for Munich based freelance choreographers who work in the field of contemporary dance.
[ more ]

---
Venue


schwere reiter



An experimental venue for the independent scene for in-house productions, cooperations and guest performances for dance, music and theatre and performance. [ more ]


---
Tanztendenz
December 01 to December 10, 2020


Residency Timothy Nouzak


5th edition 'Common-works'
From december 01 to December 10 Tanztendenz will host Timothy Nouzak for his residency. During that time he will work at the 5th edition of his project 'Common-works'.
[ More ]
---


Jauary 25 to February 07 2021


Tanztendenz


Open Studios 2021
From 25th of January until 7th of February 2021 the Tanztendenz Munich e.V. will offer their studios once more to young emerging choreographers. Please send the filled application form in PDF to Stephan Herwig at herwig(at)tanztendenz.de till 18th of December 2020.

Download application form

[ More ]



Tanztendenz Munich e.V. is sponsored
by the Munich Department of Arts and Culture
October to December


Tanzkalender



Inform yourself regularly about contemporary dance and performance in Munich.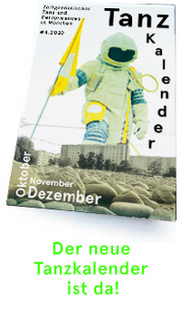 DOWNLOAD
SUBSCRIBE
---

Always up-to-date


Newsletter



We send out a newsletter with all contemporary dance premieres in Munich. In addition we publish information on workshops and courses that Tanztendenz and its members organize.

SUBSCRIBE