> back
---
> 2008
> 2009
> 2010
> 2011
> 2012
> 2013
> 2014
> 2015
> 2016
> 2017
> 2018
> 2019
> 2020
> 2021
> 2022
> 2023
> 2024
> 2025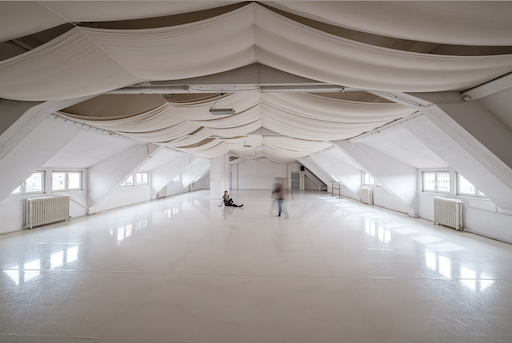 February 02 to February 15, 2023
Tanztendenz München e.V.
Open Studios
Every year in January/February, Tanztendenz München e.V. offers its studios to young choreographers for free rehearsals over a period of two weeks. The "Open Studios" were initialized in 2013 and, due to their continued success, expanded into a fixed annual series. The series is organized and supervised by members of the Tanztendenz München e.V..

The intention of the "Open Studios" is to promote young choreographers. Free - both from financial and production pressure - newcomers are provided with professional working space to experiment, rehearse and research. In addition, choreographers from the association are available as mentors on request to accompany the rehearsal process.

In 2023, the "Open Studios" will take place from February 2 - 15 under the guidance of choreographer and Tanztendenz member Stephan Herwig. Five artists or groups were selected from the applications:

Ben Meerwein, Alex Röser Vatiché, Illaira Bagarolo and Giorgio Lombardo will travel from Berlin to continue working on their project "Oh, Nero!". The project deals with the ambivalence of historical lore and its parallels to contemporary media landscapes, working movement-wise with gestures of ancient statues.

Dalma Wéninger comes from Hungary. She experiments with guided contact improvisation, aiming to build a structure between two bodies while maintaining a constant connection.

Elisabet Morera from Munich, together with a videographer, researches the absence of the body in movement involving a chromakey full body suit.

Regensburg-based Melanie Elysse Old works with a dancer on her solo "Lolita's Labyrinth," which revolves around questions such as: How does the body remember? How can I express inner turmoil in the body?

From Munich and Berlin comes Geosmin / Minjeong Yang , working on the multidisciplinary art project "Fika", which tries to connect taste, sense of smell and perception.

This year's mentors for the participants are the choreographers Caroline Finn, Sabine Hass-Zimmermann, Brigitta Trommler and Micha Purucker.

---

Tanztendenz Munich e.V. is sponsored
by the Munich Department of Arts and Culture