> zurück
---
> 2008
> 2009
> 2010
> 2011
> 2012
> 2013
> 2014
> 2015
> 2016
> 2017
> 2018
> 2019
> 2020
> 2021
> 2022
> 2023
> 2024
> 2025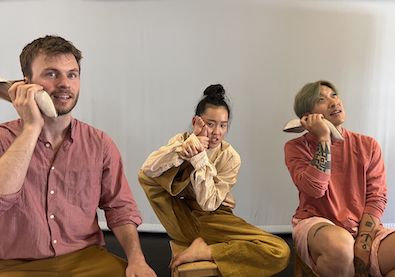 September 29 to October 02, 2023 / various times (see below)
Ceren Oran und Moving Borders
Spiel im Spiel
HochX
---

DATES
Fri, 29th Sept: 10 am (for Kindergarten only)
Sat, 30th Sept: 4 pm
Sun, 1st Oct: 11 am
Mon, 2nd Oct: 10 am (for Kindergarten only)


---

When children play, anything is possible: the floor is made of lava, objects fly through the air, and everyday objects take on a whole new meaning. The stool is a raft, a bridge, a house, a tower. It stands on its head, lies on its side, stands on its feet... From an almost infinite selection of possibilities, new worlds with their own sets of rules emerge playfully, which are repeatedly changed, expanded, discarded.

But how does one game lead to the next? Who decides what happens next? Who makes the rules and how do you make the best decision? And what happens if someone doesn't want to participate?

Three dancers get involved in the "game within the game". And also to tear down the world they have just built and to follow new impulses. What was just a hat becomes a life-saving island in a stormy sea, where just the ground was untouchable, now a big worm crawls across the stage. Who was small a moment ago becomes huge and flexes his muscles. Who just argued, now dances in unison. "Spiel im Spiel" is a dance exploration of the possibility space of children's play and an invitation to shape it.


---

CAST
Conzept, Artistic Direction, Choreography: Ceren Oran | Dance. Choreography: Jin Lee, Jihun Choi, Máté Asbóth | Music: Gudrun Plaichinger | Stage Design: Sigrid Wurzinger | Choreographic Assistence: Roni Sagi | Dramaturg: Anna Stegherr, Roni Sagi | Light Design: Joannis Murböck | Artistic Production: Karolína Hejnová | Production Direction: Michael Hennig | PR: Simone Lutz

---

FUNDING
A co-production of Ceren Oran & Moving Borders with COMEDIA Theater Cologne and HochX Theater and Live Art Munich. Kindly supported by the Cultural Department of the City of Munich and the Bavarian State Association for Contemporary Dance (BLZT) with funds from the Bavarian State Ministry for Science and Art. Thanks to Fokus Tanz and Tanzbüro München. Ceren Oran is a member of Tanztendenz München e.V.

---

WHERE
HochX Theater und Live Art, Entenbachstraße 37, 81541 München

---

TICKETS
Tickets: from 6,00 HERE

---

Tanztendenz Munich e.V. is sponsored
by the Munich Department of Arts and Culture