Caroline Finn
Sabine Glenz
Ruth Golic
Sabine Haß-Zimmermann
Stephan Herwig
Anna Holter
Judith Hummel
Jessica Iwanson
Karen Janker
Manfred Kröll
Stefan Maria Marb
Angelika Meindl
Ceren Oran
Moritz Ostruschnjak
Helmut Ott
Yvonne Pouget
Micha Purucker
Johanna Richter
Claudia Senoner
Zufit Simon
Susanne Stortz
Dali Touiti
Birgitta Trommler
Katja Wachter
---
Member since 1998
Katja Wachter
Katja Wachter studied dance and choreography at London Contemporary Dance School, she danced for several English and German companies, but started very early working on her own choreographic projects.
Already her first choreography "I apologize" was shown at the "danceplatform Germany" 1994 in Berlin and her piece "Almost" was selected as the German participant for "bancs d´essai internationaux" 1995, a tour through five countries.
Since the foundation of her own company "Selfish Shellfish" 1995 in Munich she worked on larger scale projects for which she receives funding from the cultural institute of Munich.
Her pieces have been presented at festivals and venues in Europe, Russia, Canada, the USA, Korea, Brazil and Mexico. In 1997 she was awarded the "Staatliche Förderpreis für junge Künstler" (state prize for young artists), 1998 she received the first prize at the International Choreographer's Competition Hannover.
She created pieces for Malashock Dance & Company, San Diego (1998), the Bavarian State Ballet (2000) Kipling Dance Company, Yekaterinburg (2001) and Jigu Dance Theatre, Seoul. "Night jumps" for Kipling was nominated for the Russian Theatre Prize "Golden Mask" in 2003.
In 2004 she was selected for the Aerowaves Program to perform in the Festival "Resolutions" in London.
Katja Wachter teaches contemporary dance and improvisation at Dance Center Iwanson and the Theatre Academy Munich. Since 2000 she was invited regularly as a guest teacher for Contemporary dance at different Korean Universities. She also gives workshops/open classes at schools and studios in Germany and abroad.

Training:
London Contemporary Dance School 1991-1993

Teaching:
Ballett Centrum Nürnberg/Fürth 1993-1995; since 1995 open company classes, Munich; Dance Center Iwanson (Improvisation and Contemporary Dance) since 1995; Studio Hasting; audition class for P.A.R.T.S. 1995; Tanztendenz München; Tanzwerkstatt Europa since 1997; open company classes for Malashock Dance & Co., San Diego 1998; Bavarian Theatre academy Munich since 1998; Ruth-von-Zerboni school (state approved acting school) since 1999, Highschool for Music and Theatre, Munich; SEAD, Salzburg, Austria; Master class at UCLA; Korean National University of Arts; Dongduk University, Seoul; Hansung University, Seoul; Tanzhaus Wasserwerk, Zurich;
workshops throughout Germany and abroad since 1996 (Contemporary Dance, Improvisation); Internationales Tanzfestival, Athen, 2004; Tanz- und Produktionszentrum Stuttgart; Moderna Dansteatern Stockholm, 2006; Katnap Dance Centre L.A., 2006


---
Kontakt: wachter@tanztendenz.de
---
www.katjawachter.de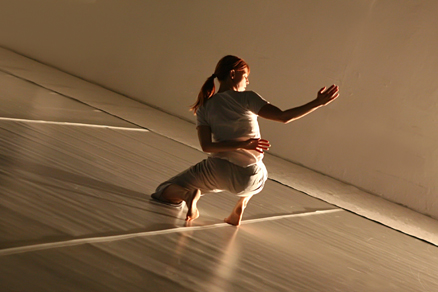 ---

Tanztendenz Munich e.V. is sponsored
by the Munich Department of Arts and Culture
Choreographies



Our Daily Post
concept for an improvisational performance with dancers, actors and musiciens, June 26 to 28, 2020, schwere reiter

---

The Door
a choreography for the Ballett Trier, premiere: April 30, 2020 is postponed!

---

Lola M.
Choreography for "A adventurous opera by Georg Ringsgwandl", Premiere at Cuvilliéstheater: April 25, 2020 is postponed! [ more ]

---

I share
Choreography for the Balé Teatro Guaíra (Curitiba/Brasilien), part of "Wachter – Winkler - Scafati", december 5 + 6, 2017, schwere reiter [ more ]

---

Score for Performance Lab
by Mia Lawrence, Live Events at the Gasteig Cultural Center (world premiere), Saturday, May 13 to Thursday, May 18, DANCE Festival 2017 [ more ]
---
NichtIch
Dance-Music-Text-Performance
Katja Wachter & James Newton,
march 30 (premiere) to april 1st, 2017, HochX [ more ]
---
Love me Gender?
movement project with acting students of Bayerische Theaterakademie. Regie/Concept: Katja Wachter, Mario Andersen. Premiered on february 14, 2017 at Akademietheater [ more ]
---
room service®
Performance (concept: Thomas Kopp) at the Festival euro-scene Leipzig 2016 [ more ]
---
On/Off stage - A Perform(d)ance
premiered on April 7 / 2016 at schwere reiter [ mehr ]
---
Bohème
The art of being an artist. Premiere: January 16 / 2015, at Pasinger Fabrik, [ more ]
---
Der Weg zum Glück
Play by Ingrid Lausund. Directing, Set and Costumes: Katja Wachter and Mario Andersen, with the actors in the second year of the Bavarian Theatre Academy, premiere: december 9, 2014, Akademietheater, WA march 5 to 11, 2015 [ more ]
---
Impro Session
with BARTOMUK, Katja Wachter, Helmut Ott & guests, schwere reiter
september, 27 + 28, 2014 [ more ]
---
Das neue Modell
Solo for the Festival "Würzburg tanzt fantastisch", july 5, 2014, Müllheizkraftwerk [ more ]
---
gehZeiten
performance in five pictures with
Katrin Schafitel, Diether Sommer, Brigitte Spielmann-Sommer, Katja Wachter, june 16, 2014, Carl-Orff-Auditorium [ mehr ]
---
Eine Blume als Gegenwehr
april, 25, world premiere at Schauspiel Essen of the first theatre play written by Katja Wachter [ more ]
---
Die Päpstin
choreography for the work by Thomas Luft/Theaterlust, premiere on march, 13th, 2014, Theater Kempten [ more ]
---
Impro Session
with the Kollektiv BARTOMUK, Katja Wachter, Helmut Ott, ...
january 9, 2014, schwere reiter [ mehr ]
---
Ingwe / Nacht
cooperation with Johannes Öllinger, december 14/15, 2013,
schwere reiter [ more ]
---
Very, Very Delicate Cycle
cooperation with Mélanie Demers (Montréal), april 26 to 28, 2013,
schwere reiter [ more ]
---
Trust
Directed by Mario Andersen, Katja Wachter. Choreography: Katja Wachter. march 7, 2013 (premiere) Akademietheater [ more ]
---
I apologize - a reconstruction
25years Tanztendenz, "She's retro", october 10 to 12, 2012, i-camp [ mehr ]
---
TANZ TOTAL
choreography for dancers of TanzTheaterMünchen, july, 5 - 8, schwere reiter [ more ]
---

PINOCCHIO
Director: Jochen Schölch, Choreography: Katja Wachter
april 16th 2012, premiere at Metropoltheater [ more ]
---
evolution remix
short film / solo / trio
november 11. (premiere) - 13, schwere reiter 2011 [ more ]
---
The space between me and myself
touring in Bresil with the Solo, awarded 2005 in the Internationalen Solo-Tanz-Theater-Wettbewerb Stuttgart, april 2011 in Salvador de Bahia during the Festival "VivaDança", and during "Fórum Internacional de Dança" in São José do Rio Preto [ more ].
---
Munich - Zurich and return
artists meet, febr. 3 & 4, schwere reiter 2011, [ more ] and febr. 16. to 18. in Tanzhaus Zürich [ mehr ]
---
DER FALL "TRAVIATA"
december, 28 (premiere) to february 13, Pasinger Fabrik 2011 [ more ]
---
Zwischenmensch / Nebenichlich
september 24 - 26, schwere reiter 2010, [ more ] march 12, Tanzspeicher Würzburg 2011 [ more ]
---
Private War
Theatre-Dance-Project by Mario Andersen and Katja Wachter, Bayerische Theaterakademie, April 2010

---
Woyzeck, after Georg Büchner, directed by Jochen Schölch, Metropoltheater, june 2010
---
Undine, die kleine Meerjungfrau
choreography in a production of Nora Bussenius, Junges Schauspielhaus Düsseldorf, premiere: 9th february 2010 [ more ]
---

Virginia, Sylvia, Sarah - Beautiful as a statistic, Selfish Shellfish / Katja Wachter; october 2 - 4, schwere reiter 2009 [ more ]
---

Speechless (working title), Soloperformance during Tanzwerkstatt Europa: "Insights I", august 10, Muffathalle 2009
---

Ask.Me.Why, Festival Zwanzig in Fünf, München, 2009
---

Der Körper und der ganze Rest, Textperformance, Kunstpavillon München, 2009 again during RODEO MÜNCHEN 2010, june 10-12, schwere reiter [ more ]
---

Hamlet for two - Hamlet fort wo
Nürnberg, 2008
---

Paare.Schritte
Bayerische Theaterakademie
Akte Romeo & Julia
(Ver)lernen fürs Leben, München, 2008
---

Ist ich ist Du, Theaterforum Gauting, Gemeinschaftsprojekt mit Angela Dauber und Helmut Ott, 2007
---

Mein Grau ist dunkler als dein Schwarz
Giesinger Bahnhof München, 2007
---

inside out
Muffathalle, 2007
---

The machine is bleeding, Tanzlandschaft Würzburg, 2006
---

nothing, München, 2006
---

Momentsterben
Akademietheater München, 2005
---

F.R.E.M.D., Fürth, 2005
---

Pseudocouples
Akademietheater München, 2004
---

Dressed Dance
Kosmos Theater, Wien, 2003 Performancetage Salzburg, Kulturgelände Nonntal
---

Definition of a grapefruit
Theater der Dongduk Universität, Seoul 2003
---

Close-to-phobia, für das Jigu Dance Theatre, Munye Theater, Seoul, 2003
---

Duett für beschädigte Tänzer
und Definition of a grapefruit
im Rahmen von Soliloquios y Dialogos Bailados, Mexico City, 2003
---

Ersatzhaut, dreiteiliger Abend mit der Uraufführung von "Favourite", ein Stück für fünf Tänzer, 35 min, 2002
---

Dressed dance, Solo, 20 min
Noch zu früh - schon zu spät
Duett, 15 min, 2002
---

Meeting in the middle, Projekt mit Choreografen aus Brasilien und Korea, 2002
---

Description of a step
Duett, Seoul, 10 min, 2002
---

Sowohlentwederalsauchoder
Choreografische Zusammenarbeit mit Philipp Egli, 35 min, 2001
---

Swanfake Solo
Nationaltheater Seoul, 10 min, 2001
---

Nachtsprünge, für Kipling Dance Company, Rußland, 30 min, 2001
---

OmU
Stück für 2 Tänzerinnen, 1 Sängerin und 1 Schauspieler, 2001
---

Duett für beschädigte Tänzer, 20 min, 2000
---

The 1-Inch-difference
25 min, 2000
---

Erlaubte Frucht, für das Bayerische Staatsballett, 25 min, 2000
---

Dead Elvis, für die Abschlußklasse Iwanson, ca.15 min, 1999
---

Es war dreimal, abendfüllende Choreografie in drei Teilen, i-camp/neues theater münchen, 1999
---

Chronological autopsy
Solo, ca. 20 min
---

Vakuum, 20 min
---

Was ihr wollt?
i-camp/neues theater München, 1998
Teilnahme an der Tanzplattform Deutschland 2000
---

Viel mer, Duett, 10 min
---

The leading question, für Malashock Dance &Company, San Diego, ca. 25 min, 1997
---

Harmlose Entdeckung, Solo, Tanzwerkstatt Europa, 15 min
---

Schiffersenkt
abendfüllende Produktion
---

Cruel, bloody fate
1. Preis Choreografenwettbewerb Hannover 1998, 15 min

---

kcüR, ca. 35 min, 1995
---

stiffnecks, 30 min
---

Selbstgespräch, Duett, 25 min
---

Wohngefeindschaft, 1995
---

Reich und schön, ca. 30 min
---

Almost, Duett, ausgewählt für "bancs d´essai internationaux", ca. 15 min
---

Remote control, 1994, 10 min
---

I apologize, Solo, Tanzplattform Deutschland, 5 min, 1994
---
LOGIN